Contact Lens Examination & Fitting Toronto
University Eye Clinic optometrists have had extensive training and clinical experience with the fitting and management of all contact lens cases. We take contact lens fitting, instruction on proper lens care and follow-up care very seriously. We fit all types of contact lenses including the newest disposables, bifocal, coloured contacts, and gas-permeable lenses.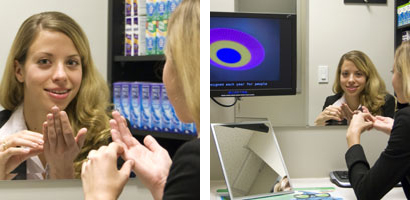 We continually work with the most recent advances in contact lens technology, which include improved comfort and healthiness of the contact lenses themselves. Patients with dry eye syndrome and even patients with high astigmatism power are now able to be successful contact lens wearers. So whether you have blurred vision or just want to change the colour of your eye, the doctors at University Eye Clinic will help fit the contacts that are right for you.
If you would like to order new contact lenses, please call us at 416.977.8194 or stop by our office at 700 University Ave, Toronto.
Orthokeratology
Orthokeratology is a modern treatment, which uses gas permeable contact lenses to reshape the cornea temporarily. The contact lenses are worn overnight and removed upon awakening. The lenses gently reshape the cornea which reduces refractive error and will provide patients with clear vision. This means that patients do not have to wear glasses or contact lenses at all during the day.
Ortho-k is ideal for patients who suffer from dry eyes with soft contact lenses. Ortho-K lenses are also great for athletes and swimmers who do not want their glasses or contacts to affect their performance. The treatment can be used on patients of a variety of ages and studies have shown the treatment to decrease the progression of nearsightedness in children.
Back