Digital Retinal Imaging Services Toronto
Our office offers high resolution retinal photography, which uses a computer-integrated digital imaging system to record a detailed view of the retina. This image provides an excellent reference point for future comparisons.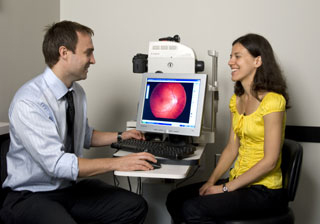 Digital retinal imaging assists in the detection and management of problems such as diabetic changes, macular degeneration, hypertensive retinopathy, glaucoma and other diseases of the posterior pole.
We recommend that all our patients have this test. It is especially important for those with a history of diabetes, high blood pressure, retinal diseases, flashing lights, decreased vision or a strong glasses prescription
Back