Essilor Mr. Blue Lens Edging Machine for Faster Prescription Glasses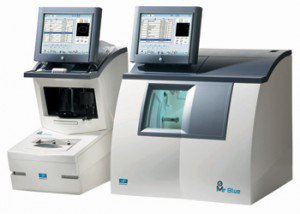 Essilor is the world's leading producer of finished lens edging instruments for eyecare professionals and prescription laboratories.
These machines handle all aspects of lens production, from vision testing to measuring, edging, piercing and mounting.
Mr. Blue is the the digital system that integrates a tracer-centerer-blocker and an edger allowing for precise and accurate edging in uniquely designed frames.
Our in office lab offers the latest technology and instrumentation allowing many spectacle prescriptions to be ready within one hour.
In cases where we must have an order fabricated at another facility, which may take several days, we are often able to have the completed lens cut into a frame within the hour. This allows someone to order a prescription without having to give up their glasses until the lens is complete and ready to be cut into a frame which saves the inconvenience of having to go without glasses for days.
Ask our opticians for more details.
Back